Kennel
Welcome to SIMAUTA DESS!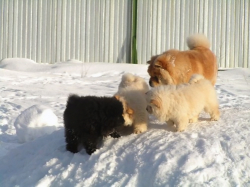 Our kennel was founded in 1995. In 2002, established in RKF-FCI system. We live in Russia, in the heart of country - in Moscow. Our home and kennel are located 17 km from the Moscow Ring Road. Chow-chows and Biewers - it's part of our family, they live with us, puppies and adult dogs play with our kids, ride with us on a journey. They get all the best that we can give them: our love, high quality food, best veterinary care, and more.
Each of our Chows and Biewers - Personality and we respect that. They are free and not sitting in the cells. We do not use any doping and coloring cosmetics to achieve victories on dogshow. Chow-chows, which we use in our breeding program are tests for dysplasia, free of entropy, patella, skin problems. We want to have healthy, beautiful and good dogs and aspire to it for breeding.
Achievements:
for the years 2003-2015 in our kennel born

5 International Champion, 14 Champions of Russia;
first Russian Chow - Champion and winner of the National Club Chow four countries - Russia, Germany, Sweden, Norway;
first Russian Chow - Champion of Germany;
Russian first two Chow - Champions of Great Britain;
first Russian Chow - Champion of Sweden, Norway, Denmark, Best Producer Denmark'07;
Russian first two Chow - Champions Scandinavia.
We can to share experiences, as our kennel was the first to use artificial insemination of chilled and frozen semen. Also, since 2003, we are testing our Chow Chow for dysplasia.
Here you can buy a puppy Chow as a pet or dog for show or breeding. We are always ready to provide all possible assistance for the care, feeding, breeding and raising puppies. Look at our Chow Chow and Biewer can not remain indifferent to these wonderful breeds dogs.
Sincerely, Igor and Alena
You can contact us by phone +7 916 240-2100 (for sms)
or send us a message in the contact form.